Ramadhan Appeal 2022
Despite all efforts to halt displacement, hunger, and disease, the situation in Yemen remains catastrophic and continues to be the worst human-made humanitarian crisis in the world. After more than seven years of devastating and unrelenting conflict, some 20 million Yemenis depend urgently on humanitarian assistance to survive, including 4 million internally displaced persons (IDPs) and 80% live below the poverty line.There are more than 3,000 Yemeni refugees in Malaysia and COVID-19 pandemic has deprived them from earning basic income for their food, housing, education and day-to-day needs. This Ramadhan they need our help more than ever to sustain their basic needs.
Please join AN@S to support the Yemenis, as well as our own local underprivileged families and individuals, to ensure they have a peaceful and blessed Ramadhan.
AN@S Ramadhan Projects:
1) Humanitarian Aid to Yemen via مفوضيةاللاجئين اليمن UNHCR YEMEN
2) Aid to Yemeni Refugees in KL, Malaysia:
a – Ramadhan Food Basket & Cash
b – Education Fund for Yemeni refugee students
3) Local Aid: For underprivileged Singaporeans
For more info, please email: thearabnetwork@gmail.com or call 9664 8924 / 9387 7774
Closing Date for Ramadhan Disbursement: Sunday, 24th April 2022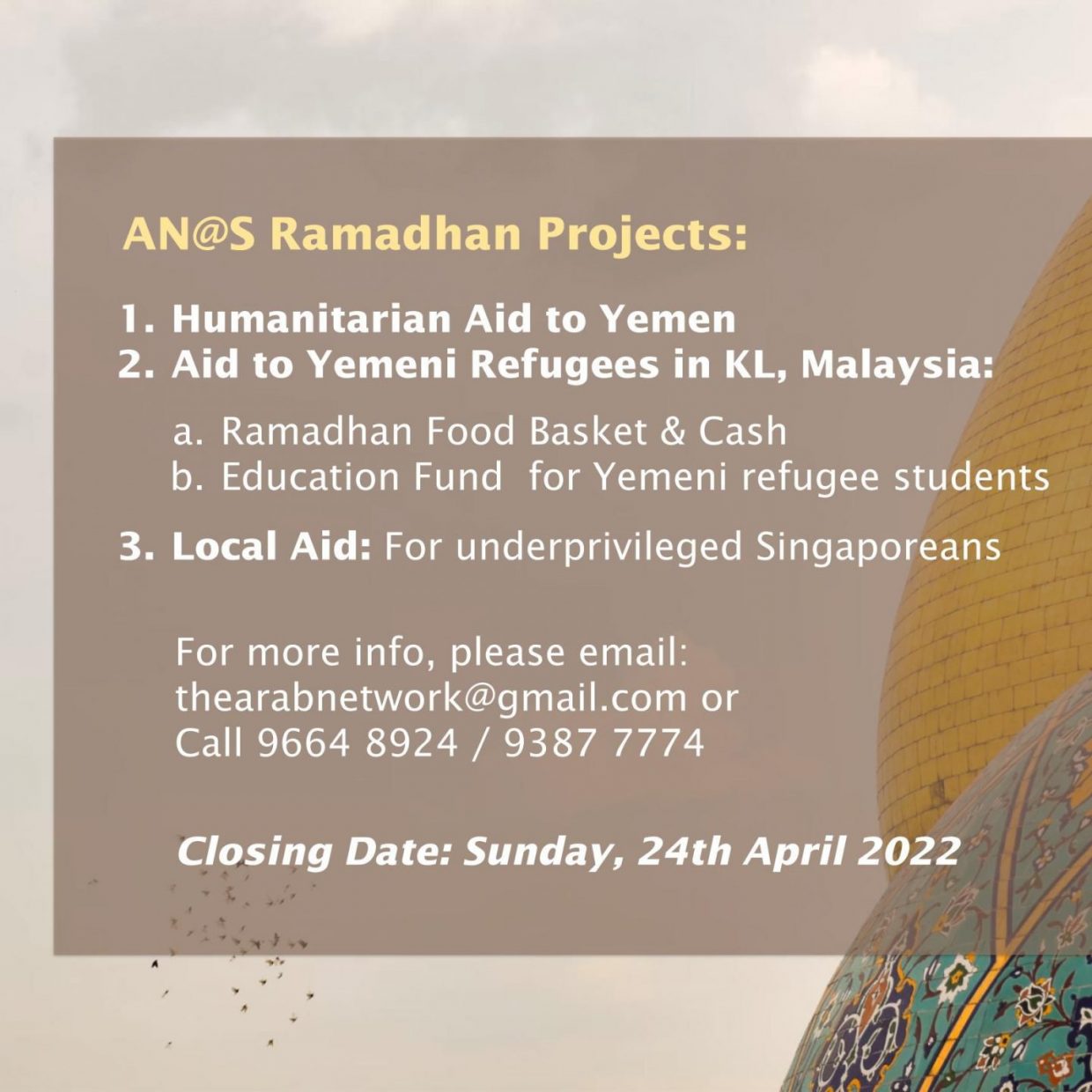 For more info about the latest situation in Yemen, please click the image below to watch a video call between UNHCR and their Ambassador, Angelina Jolie, who recently visited Yemen: