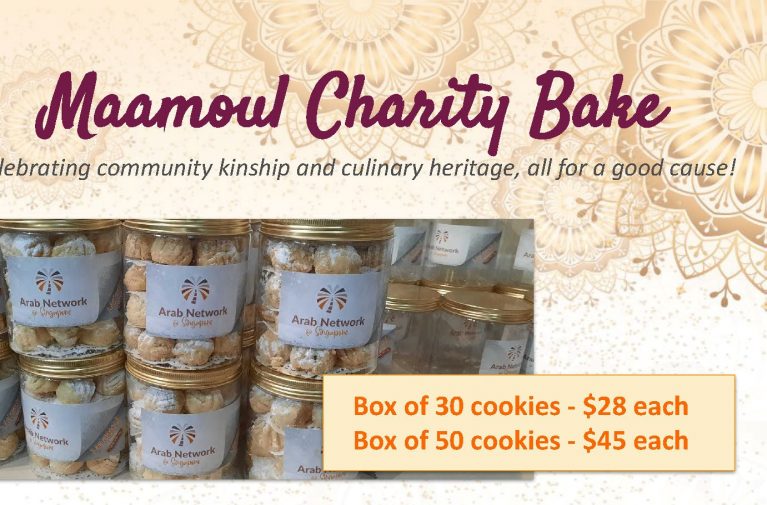 Kuih Maamoul Charity Bake 2022
Ramadhan Mubarak! The Arab Network @Singapore's volunteer bakers from the community will gather at Chef Zan's training kitchen to lovingly bake Maamoul or locally known as Kueh Makmur Kurma (or cookies stuffed with dates) for our fourth Ramadhan Appeal Maamoul Charity bake. Every year, local Arab households will usher the Eid or Hari Raya Puasa by baking these traditional date cookies. The dough is made from wheat (or semolina) and butter stuffed with date fillings, baked and dusted with powdered sugar for a delicious melt-in-your-mouth dessert, which is a perfect reward after a month long fasting. The recipe is inspired from the Middle Eastern dessert known as Maamoul. It is an initiative very dear to our hearts sharing home grown recipe and re-living memories of our childhood together.
These cookies have evolved with a local twist, filled with peanuts and known as Kueh Makmur kacang. AN@S Kueh Makmur retains the original version with dates stuffing to stay authentic using only high quality ingredients.
Box of 30 cookies – $28 each
Box of 50 cookies – $45 each
Order yours now BEFORE 21st April 2022 via WhatsApp, SMS or call: 9664 8924 (Nor) / 9387 7774 (Farah)
Payment Methods:
1. Bank Transfer Bank Name: DBS Bank Ltd Acc. Name: Arab Network Acc. No.: 048-902799-1
2. Cheque Payee: Arab Network @ Singapore Ltd Address: 302 Upper East Road, #03-06 Richeast Gardens, Singapore 466440
3. PayNow UEN: 201107288Z001 Name: Arab Network @anas
ALL sale proceeds will be channelled to support AN@S' not-for-profit causes and programmes.