School Holiday Programme: Ramadhan, Quran and Beyond
May 29

-

May 31, 2018

| $75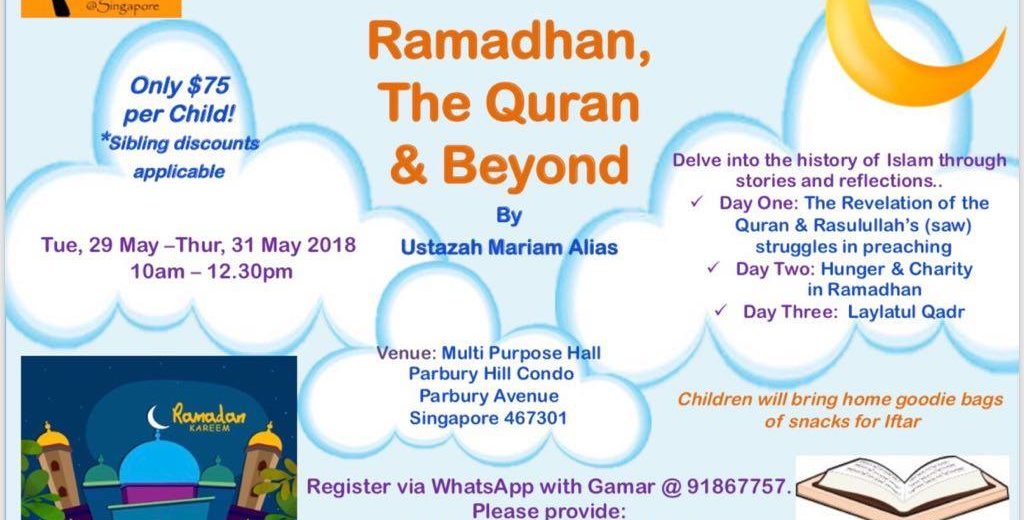 AN@S is organising our second school holiday programme for kids this year. After the success of our inaugural programme last year, we are blessed to have your support to hold another programme this year. This time it will be a 3-day school holiday spiritual programme for 20 children (9 to 15 year olds) from 29 to 31 May 2018. The children were guided by Ustazah Mariam Alias entitled Ramadhan, Quran and Beyond. Ustazah Mariam will be covering the seerah/history of Ramadhan including the struggles of the Prophet (peace be upon him) in receiving and spreading the Revelation, charity and hunger in Ramadhan and Laylatul Qadr.
Fees are $75 per child and sibling discounts are available upon request. Register now via WhatsApp to 91867757 with your child's name and age and parent's name too. Payment details will be given upon registration.
May Allah bless all our children with strong iman and positive spiritual foundation.
Post-event note: Alhamdulillah, the programme was organised and completed. Please browse through the photos of the programme below which was taken on the last day: