Leyaali elKhayr 2013 – Night of Benevolence
Nov 22, 2013
| SG$165

The Arab Network @ Singapore (AN@S) proudly presents Leyaali el-Khayr 2013 – a Charity Gala Dinner in aid of:
• Singapore Association for the Visually Handicapped (SAVH)
• Autism Resource Centre (ARC)
• Maulid Memorial Scholarship Fund Board (LBKM)
The above beneficiaries were selected because their causes are aligned with AN@S' main missions of education and empowerment. In addition, the AN@S Leyaali el-Khayr Organising Committee has specifically chosen the 3 lesser-known causes for this event as these organisations have very little exposure in Singapore yet the work they do is so impactful to the lives of the disadvantaged.
Through this charity gala dinner, AN@S aims to present Singaporeans with an opportunity to experience the sights, sounds and tastes of the Arab culture and traditions. This will be a night where diners can experience the positive and beautiful elements of the Arab culture. The Arabs are well-known for their generosity and graciousness to guests. Therefore, by combining the gala dinner with the charity element, the AN@S Leyaali el-Khayr 2013 will be an effective embodiment of AN@S' aims and objectives. The Leyaali el-Khayr Charity Gala Dinner 2013 is also the perfect opportunity to immerse yourself with the Arab culture in all its splendour while enjoying sumptuous Arabic cuisine to give you a truly Arabic experience at your own doorstep.
The event itself will start with a bang when the Guest of Honour, Speaker of Parliament, Mdm Halimah Yacob, will be given a traditional Yemeni welcome by the Arabian Knights dance and music troupe. During the dinner itself, guests will be entertained by musicians, singers, dancers and fashion models including an international violinist, Maher Salamé, who hails from Lebanon. These performances will showcase Arab music, dance and artistic expressions that will surely captivate and entertain all guests. Weaving through the programme will be introductions to each of our beneficiary organisations ensuring that the guests will not only be aware of their noble causes but also will get to know the challenges and issues facing low income students, the visually handicapped and also autistic children. As a bonus, guests will also have the opportunity to enjoy an unforgettable piano recital by the visually impaired child protégé, Miss Adelyn Koh. The night will hopefully end with a bigger bang as we will be auctioning off all the exquisite items displayed at the foyer of the ballroom during registrations between 7pm to 7.30pm. The auction is where AN@S hope to garner as much funds as possible for the three deserving beneficiaries.
Tickets can be bought at $165 nett per seat (inclusive of Dinner for One) by emailing thearabnetwork@gmail.com or call Khadijah at 9649 1872, Farah at 9387 7774, Fauziah at 9247 4424 or Nor at 9664 8924.
Purchase of Corporate Tables are also available at $10,000, $5,000 and $3,000.
About the Performers
The first classical-electro-oriental violin cross-over artiste, Maher Salamé is one of the most talented figures in the Arab music industry. His sound is a unique mix of middle eastern and occidental music producing beautiful and unforgettable masterpieces. Salamé is back in Singapore for his second appearance due to popular demand.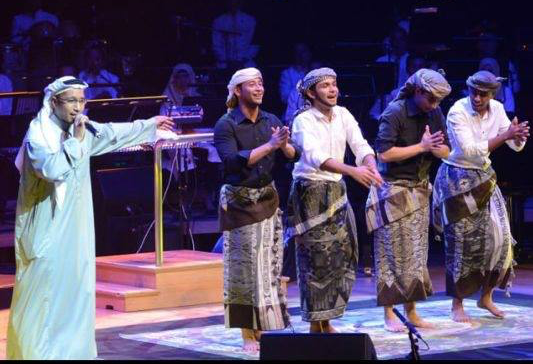 The Arabian Knights is a group of talented young Hadhrami dancers and singers. They have made numerous appearances locally and in Malaysia, entertaining audiences with their Yemeni inspired routines. Let your senses be awakened by this young troupe as they take you in your journey to discover the sights and sounds, the rhythm and the beat of an Arabian adventure in the Night of Benevolence.
12-year-old Adelyn Koh was born with
a rare congenital eye disease called Peter's Anomaly. Despite this, she has not only mastered playing the piano but also has composed four songs and produced her own album to raise funds for her medical expenses. Adelyn is also a a caring soul as she has also been helping many charities to raise funds including the SAVH and the President's Star Charity. More details about her experiences can be found in her blog: http://adelynxinhui.blogspot.sg/
Items up for Auction for the 3 Charities
Arabic Calligraphy Art by Juma al-Harthy, 2012
Starting bid: $2,600
Translation: Possessions are gifts from the Almighty; and Piety is a character (given) from Him to mankind and is knowned as a behaviour of the noble.
High Quality Hand Knotted Persian Carpet by Hassan Carpets
Starting bid: $2,500
Size: 9.4 ft x 6.0 ft
Material: Wool & Silk on Cotton Base
A trusted name in Oriental carpets, Hassan's Carpets is a leading purveyor of exquisite objets d'art. The rich history of Hassan's Carpets dates back to the 1930s, when Mr Khawaja Abdul Hamid, a descendent of a long line of carpet merchants, opened one of the first Oriental carpet shops in Singapore. Hassan Carpets has donated a truly one-of-a-kind hand knotted high quality carpet for the Leyaali el-Khayr 2013's auction. The specially selected carpet has been expertly crafted by experienced carpet-weavers.
Sultan Mosque Wall Art Encrusted with Semi Precious Stones by Khazaanah
Starting bid: $1,300
Size : 27″ x 21″
Stones : Citrine, Jade, Apatite, Spinel and Schorl (black tourmaline)
A week home-stay in Tuscany, Italy
Starting bid: $3,388
Enjoy 7 days of a truly magical experience in the heart of Toscana, the heart of Italy. Your home stay at a villa in Maremma situated on 5 acres of olive groves surrounded by rolling Tuscan hills with breathtaking views. The villa houses 3 bedrooms, 2 bathrooms and a private pool house with an open bar and barbeque area nested in its well manicured garden and beautiful loggia. Toscana iitself is regarded as the birthplace of the Italian Renaissance and has been home to many figures influential in the history of art and science, and contain well-known museums such as the Uffizi and the Pitti Palace. This homestay is sponsored by GSTELLA.
Secret Painting by Aziza Ali
Starting bid: $2,288
Aziza Ali is a Singaporean former chef, food consultant, business person, artist, jeweller, and author. She is recognised with opening Singapore's first Malay restaurant as well as bringing fine Malay dining to the Singaporean public. A self-taught artist, Aziza's artworks are priced at several thousand dollars; she has held two solo art exhibitions (2008 and 2010). Aziza also designs jewellery, which is then sold by her Emirati acquaintance. Especially for Leyaali el-Khayr 2013, Aziza has created a special commemorative painting inspired by the sincerity and dedication of the AN@S' members who are majority ladies. This one and only work of art is our best kept secret and will only be revealed to all at the Leyaali el-Khayr event on 22 November 2013.
---
You can browse photos from the Leyaali elKhayr 2013 Charity Gala Dinner below: